4+
Про виставу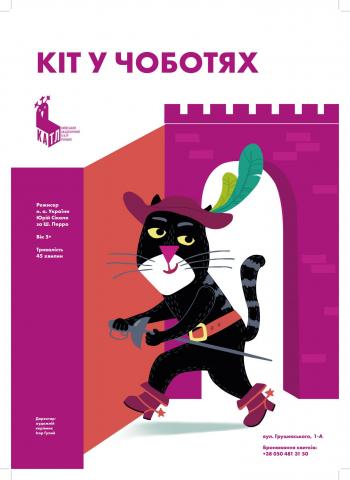 Madam and monsieur! You are welcome to visit our theater. We will impress you with French chic and charm by telling a story about the most famous cat around the world. You were not mistaken, it's about the Puss in Boots.
This wonderful fairy-tale was created by a famous French author Charles Perrault, who wrote tales not only for children, but ... for adults (yes, yes - do not be surprised, monsieur!).
The events of the story will unfold in the presentation performed by the real French puppeteers who move elegantly on stage, sing exquisitely and, of course, masterfully control the most complex doll possible, a puppet.
Here he stands before us, a poor young man Jacques, who inherited only one thing from his father, a cat. But this cat was a special one. A smart, meticulous, resourceful and fluffy hero of our story will be able to charm the king himself along with his entire royal retinue. But our protagonist's greatest achievement will be the arrangement of an acquaintance of two young characters of the play - Jacques and Princess Petyti.
Our favorite cat will have to encounter a great danger - a fierce Man-eater. However, our hero on his own experience will confirm the immutable truth – it's not enough to be large, you also need to be smart. And our miniature Cat easily deals with a big man-eating smart aleck.
So, madam and monsieur, you are in for a funny, dynamic puppet show in which the main character, Cat, shows his magnificent ingenuity, dedication and kind humor in order to prove his sincere devotion and love to his inexperienced master Jacques.
Author
Yuri Sikalo by Charles Perrault
Director
n.a. of Ukraine Yuriy Sikalo
Composer
h. a. of Ukraine Yuriy Shevchenko
Heading
Performances for children