3+
Про виставу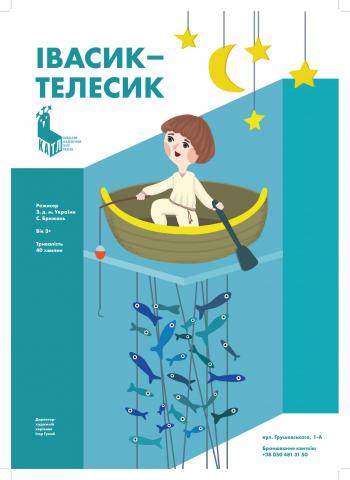 We invite you to dive into the poetic world of Ukrainian folklore. The fairy tale "Ivasik-Telesik" can rightly be regarded as one of the key folk tales in Ukrainian culture. An acquaintance with this tale has to take place in early childhood, and if this is done by means of puppets then it will be the best acquaintance ever.
Our performance is incredibly atmospheric. Viewers along with the actors, are transferred to ancient times, the times of Slavic Rus. You will follow through the pages of an ancient calendar to the time of spring, the time of year, when the nature awakens.
Those distant, long forgotten times were the times of our pagan ancestors. They were known for their great honor and love for the world around them. They worshiped the forces of nature, took care of plants, animals, humanlike creatures such as mermaids, beregins and others. Their great spirituality filled them with incredible strength.
In our performance we use similar style. Actors combine magnificent and sophisticated choreography, folk songs, narrative and filigree work with a puppet to tell the viewer about the adventures of Ivasik-Telesik. This boy will have to face Baba Yaga herself; she will try to take Ivasik away from his mother and father. However, our protagonist is not the kind of a hero to surrender easily.
Heading
Performances for children
Genre
Poetic and folklore show