3+
Про виставу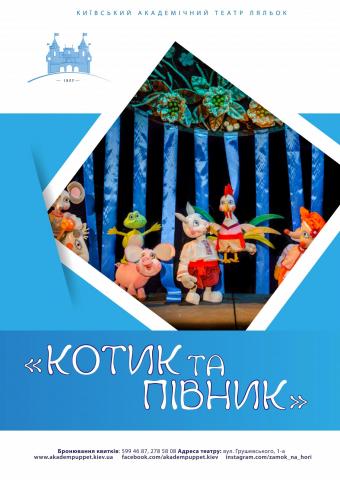 Our theater is greatly admiring folklore, especially Ukrainian folk tales. This is why you can experience the best examples of children's folklore on the stage of our theatre.
This time, we are offering you a fairy tale "The Cat and the Rooster". This is one of the most famous Ukrainian stories with which Ukrainian mothers entertained their little children from time immemorial, teaching them the canons of genuine friendship, dedication, and giving a lesson of vigilance and caution.
This fairy tale tells of two inextricable friends, the Cat and the Rooster. They lived their habitual, calm life. The Cat engaged in hunting, and the Rooster had to sit inside the house and was forbidden to leave it! That's what his friend, the Cat, told him. Because behind the door the cunning and insidious Fox waits for him. She has been hunting for him for a long time and tried to lure him out of the house on numerous occasions.
One-day Cat goes out to the fair. And the Fox decides to get her prey. She lures the Rooster out of the house using peas and bean seeds, but fails at all attempts. And only when the Fox promises the Rooster a tasty poppy pie, a poor Rooster fails to withstand Foxes manipulations and agrees to leave the house. This was the exact opportunity the Fox has been waiting for! She grabs the Cockerel and runs away to her place.
Was the brave Cat able to save his friend from the imminent danger and teach an insidious Fox a lesson?
Lifehack from the theater: the play is set in the form of a song-narrative of Kobzar-Bandurist. Before you visit the show, you can tell your child about Ukrainian folk singers and musicians who were creators, keepers and transmitters of the epic tradition in the form of historical songs, dumas, and also fairy tales and legends accompanied by a magical sound of the kobza, lyre or bandura, from where came their names - kobzari, lyri or bandurists.
Author
Grigory Usach, Sergey Efremov
Director
n. a. of Ukraine Yuriy Sikalo, Dmitry Drapikovsky
Heading
Performances for children